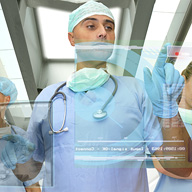 Health IT
Connecting data to deliver actionable information for better healthcare.
---
Critical Health Information — Fast
From electronic health record implementation and optimization to developing health information interoperability capabilities, Leidos designs, builds, and operates large-scale clinical information systems for federal and commercial customers that deliver health data where and when it is needed.
Our experts develop, modernize, and support information platforms to help our healthcare customers derive value from the increasing availability of electronic health data. Through the application of open-source technologies and industry-accepted standards, we devise innovative solutions to support the secure exchange of interoperable health data across national, regional and local networks. We leverage our experience supporting the development of the secure exchange of clinical data between federal and commercial healthcare organizations.
Whether we are creating enterprise architectures that optimize the capabilities of information technology, fostering interoperability and information sharing through the implementation of standards, or helping to maintain the security and privacy of health information, Leidos applies its domain and technical expertise to find innovative solutions for our customer's complex information technology requirements.
Health Information Technology Services
Service
Benefit
Electronic health records / Systems integration

Improves health delivery and reduces medical errors
Fosters health and scientific collaboration
Reduces operational and administrative costs
Helps improve systems availability, responsiveness and performance
Provides access to advanced technologies
Cost-effective, agile implementations
Helps reduce operational and administrative costs
Helps improve operational and systems availability, responsiveness and performance

Software lifecycle management

Advances the development of interoperable information systems
Assures system availability and the successful exchange of data

Health analytics

Advances the development of interoperable information systems
Create an environment that allows for rich analytics that enable comparative and predictive management of key functions

Health data management

Assures timely access to data
Helps reduce medical errors, fosters collaboration
Helps assure information privacy and secure access to data

Health Information Security

Helps assure the privacy and security of patient health information
Complies with federal security guidelines and laws
Manages complex security environments cost-effectively
Experienced C&A teams with a proven track record of success